From July 21st to August 21st, 2023, SEWA Experiences opened the artistic universe for a captivating and profound experience through the exhibition 'PERSPECTIVE' by artist Iulia Șuta. With colorful and diverse geometric shapes carefully drawn on hemp sheets, this exhibition takes us on a fascinating journey through the imagination and interpretation of each viewer.
A Story Drawn on Hemp Sheets
And even small things can hold great stories, and Iulia's works demonstrated this in the most artistic way possible. Each seemingly simple geometric shape conceals a complex world of possibilities and interpretations. Iulia has created a visual symphony of lines, angles, and proportions, leaving room for each viewer's mind to journey through its colors and meanings.
Freedom of Interpretation
One of the beauties of art is that there are no right or wrong answers. The 'PERSPECTIVE' exhibition promoted this freedom of interpretation, encouraging visitors to follow their instincts and discover their own meanings in each artwork. Every viewer was challenged to engage in a personal dialogue with each geometric shape, to explore the blend of simplicity and depth, and to create their own story.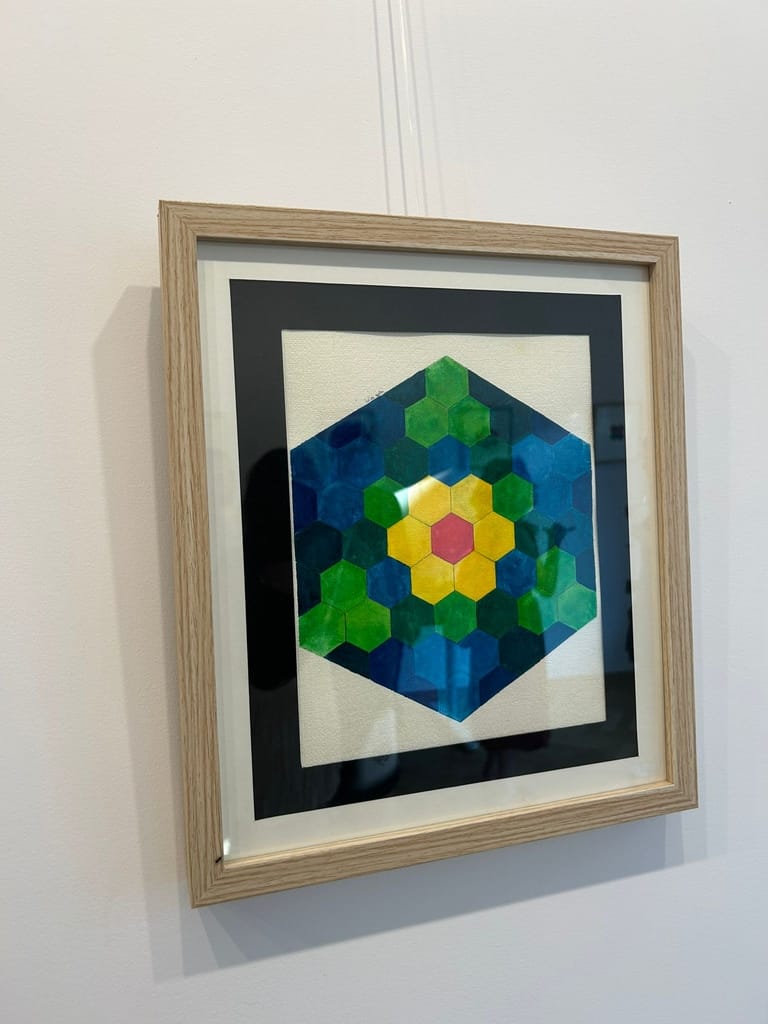 Voices from the Audience
The exhibition has inspired a variety of reactions and impressions from the visitors. Iulia engaged with each one, connecting to the thoughts, experiences, and emotions evoked by her artworks.
"Congratulations, Iulia, for the reinterpreted geometries and meanings, for colors and technique, for playfulness, abstraction, and vulnerability." – Monica
"UNIQUE PERSPECTIVE: EVERYTHING CAN BE BEAUTIFUL, EVEN SIMPLICITY." – Licurici
"A charming collection with kaleidoscope notes. I discovered an ice cream, a tunnel of time, and small childhood memories." – Carmen
In Conclusion…
The 'PERSPECTIVE' Exhibition brought a touch of sophistication and complexity to the geometric world, urging us to look beyond the surface and explore the depths hidden within each form. This exhibition was a journey full of surprises, highlighting the value of art as a means of expression and connection between people. With each shape meticulously drawn on hemp sheets, Iulia Șuta offered us a window into a universe of unique and unexpected 'PERSPECTIVES'.
If you haven't had the chance to visit the exhibition yet, you can do so until August 21st, at 1 Paul Richter Street in Brașov. Prior reservation is necessary by calling the phone number +40753 344 196 or by emailing us at salut@sewa.ro. The visiting schedule is from Monday to Friday, between 12:00 and 18:00.
Don't forget to follow us on:
Keywords: sewa, experiences, culture, opening, perspective, geometry, forms